We are developing a tool (PointCloud XR) for viewing point-clouds and vector data in Virtual Reality. We have chosen to use the HTC-Vive and Unity for our development. The original plan for the development was this one: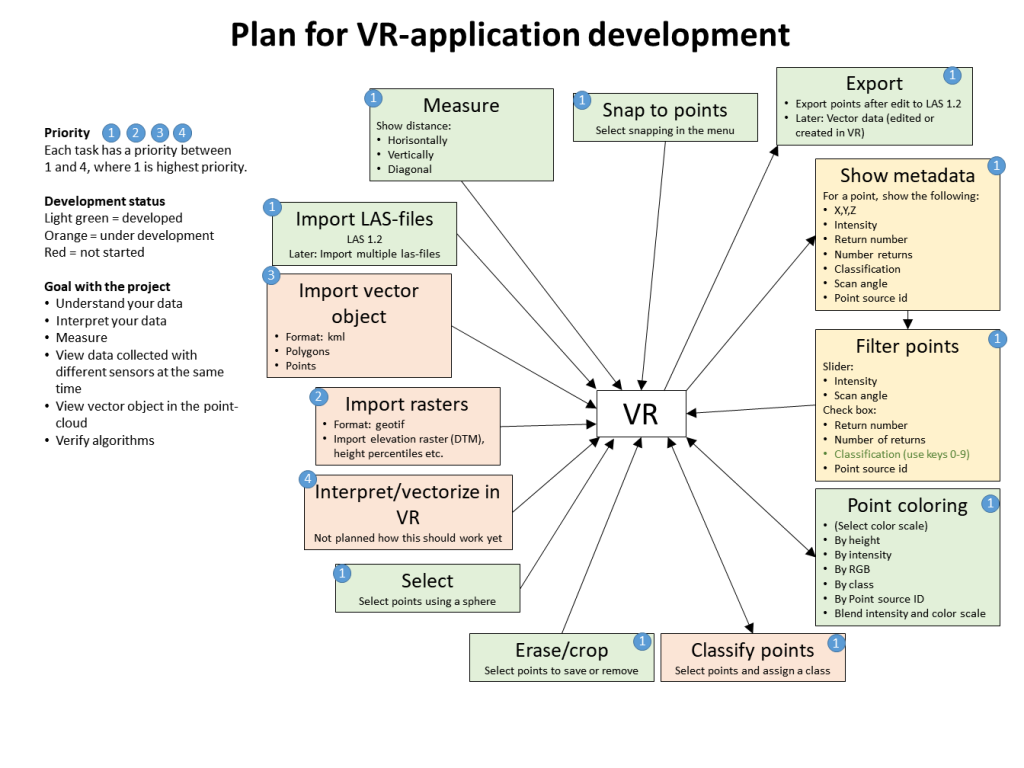 Due to changes in personnel, the application will currently not be developed further than its current version (1.0.1). This may change in the future, but currently this is the case (written 2019-08-15). We will investigate if we can release the source code and open up for the community to further develop the application.
The blue dots is a priority where 1 is the highest priority and 4 the lowest. The status of the development was updated on 15 August 2019 with the following colours:
Green = Development is finished
Orange = Under development
Red = Planned, but development not started
Download and try
We have released a beta version available for testing. Read more and download here. If you want a notification when we release new versions, please send an e-mail to: vr@rslab.se.
Examples
Some students tried the VR-application on the 19th of October 2018 and here is a short clip showing their excitement about the 3D point-cloud the "flew" around in. The data is from teresterial laser scanning of a forest test site in Remningstorp.
Here is a short video from a Ljungbergseminar where Henrik tries out the HTC Vive (Virtual Reality), November 2016. This was before we started to develop our own application. This is a point cloud created from drone images. On the screen in the background you can see what Henrik sees in the headset. In the headset, you see it all in 3D as well.